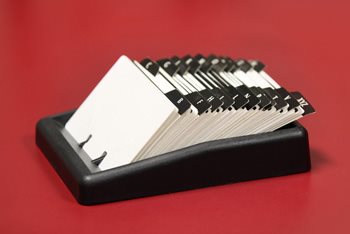 A business
card holder can be classified as two separate entities: portable business card
holders and desktop business card holders. Business card holders are used to
store, hold, and protect business cards prior and during their eventual
dissemination.
Why Use a Business Card Holder?

Despite the fact that business cards are
printed on heavier grade paper, such as card cardstock, which gives them added
durability and protection from damage and wear, business cards can still be
subject to scratching, bending, and wrinkling. An individual receiving a
damaged or bent business card might be wary of the individual or business
listed on the business card due to the condition of the business card received.
Furthermore, in the event that an individual or business has spent money
producing high-grade, high-quality business cards, it is in their best interest
to protect the business cards from premature wear.
Types of Business Card Holders

Desktop business card holders are
manufactured to sit atop desks or other surfaces in which they can be
accessible to visitors and clients. A business card holder should provide ample
protection and accessibility for the business cards housed within them. Desktop
business card holders should allow for an individual to seamlessly and easily obtain
a business card from them.
In many
cases, individuals who use business card holders choose to utilize them in
order to avoid physically passing a business card during a formal or informal meeting
setting. Furthermore, business card holders can be utilized to match the design
and décor of the office, as well as display a creative or eye-catching design.
Desktop
business card holders can range from plastic to metal. In addition, the
available capacity of business card holders can vary. While some business card holders
carry hundreds of business cards at a time, some desktop business card holders
simply display a single business card.
Portable business card holders protect the
integrity and physical state of a business card, which is at times the sole
emissary of a new or unfamiliar business. In networking settings, individuals
with damaged or low-grade business cards may be prematurely judged in
accordance with the condition of their business cards. Business cards held in
business held in business card holders display an air that the individual not
only wishes to project a reputable and accessible image, but also is in the
habit of distributing many business cards. Many feel that this shows the
prospect of careful, meticulous, and responsible character traits on the part
of that individual.
Where to Get Business Card Holders

Business card holders can be obtained at a
variety of locations, ranging from office supply stores to custom manufacturing
facilities. A business card holder can project an air of professionalism, seriousness,
and attention to detail. Due to the fact that an innumerable number of business
cards are exchanged on a daily basis, a desire to maintain the pristine
condition of a business card can add value and reputability to those that
possess them.