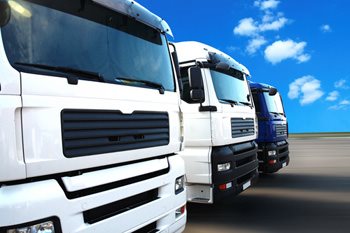 What is a Trucking Company?
A trucking company is, in essence, a middle man. Trucking companies deliver goods, raw materials, or possessions by truck to various locations or hubs for redistribution. Trucking companies connect the domestic markets by shipping goods and possessions to individuals in a timely manner. The United States' infrastructure enables trucking companies to ship products to various locations within the United States in a timely and cost effective manner.
Trucking companies are composed of two essential components: the corporate side, which sets up deals to manufacture and purchase trucks, and the truck drivers, who are the individuals who physically drive the trucks, and thus, ship the possessions or goods from one location to another. Truck drivers provide a crucial service to industrial societies by transporting raw materials or finished products to their intended locations.
Trucking companies will take a finished product or a bundle of raw materials from a manufacturing plant and deliver them to distribution or retail centers for sale. Without the inclusion of a trucking company, or more specifically a truck driver, retail centers would fail in receiving their goods for distribution.
License Requirements
According to transportation law in the United States, all truck drivers must meet specific regulations and pass a series of examinations to obtain a trucking license. The United States employs a classification system, where truck drivers are mandated to obtain a Commercial Driver's License in order to operate a commercial motor vehicle. These licenses must be acquired for all operations using vehicles in excess of 26,000 pounds.
To obtain a Commercial Vehicle License an individual must demonstrate a particular skill set. The applicant must pass a pre-trip inspection, a driving test, and a written test which covers the unique handling of a truck and the mechanical systems required to operate a vehicle of such size. The applicant must be at least 18 years of age, but the majority of trucking companies will only hire individuals who are over the age of 23 and have operated a truck for at least one year.
The testing requirements are stringent because the job is a solitary effort. Truck drivers are alone on the road and required to operate as well as maintain the vehicle without any direct assistance.
The United States Department of Transportation
The United States Department of Transportation is the Government agency responsible for instituting the requirements and tests needed to obtain a Commercial Driver's License. The Department of Transportation organizes the licenses through the creation of a classification system:
Class A: The license for any combination of vehicles with a gross vehicle weight rating of 26,001 pounds or more, but not in excess of 10,000 pounds.
Class B: The license required for all single vehicles with a gross vehicle weight rating of 26,001 or more pounds.
Class C: The license required for any single vehicle, or combination of vehicles, that fails to meet the definition of a Class A or Class B vehicle. Typically this license is needed to operate any vehicle that carries hazardous materials.